1970s Blue Mountains motel converted to modern pastel-hued boutique hotel
---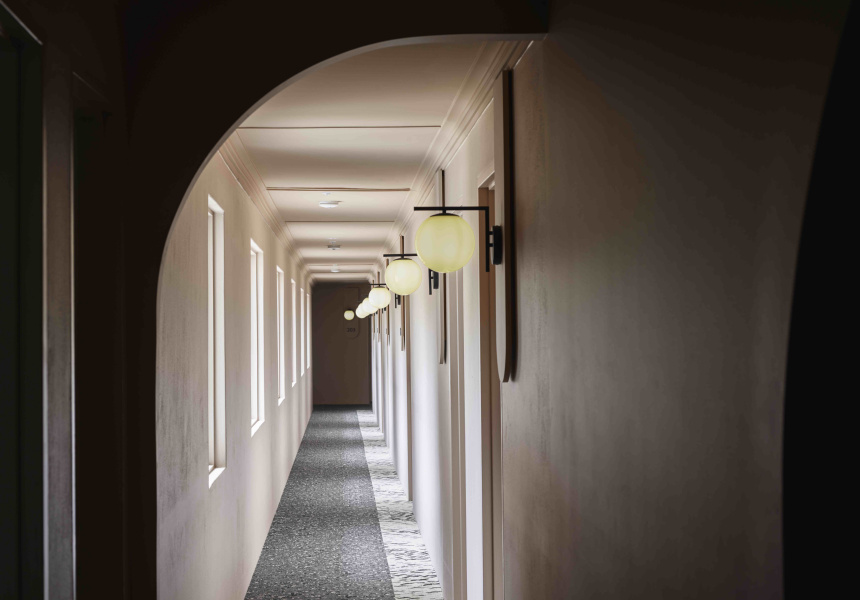 Converting run-down motels to luxury hotels has recently become an entrepreneurial trend on the East Coast. Example: Halcyon House in Cabarita, Sunseeker in Byron, Hillcrest in Merimbula and Mysa Motel in the Gold Coast.
The newest reimagined motel to join this list is the Kyah Boutique Hotel. Formerly the Redleaf Resort, it is located near the highest point of the Blue Mountains in Blackheath and has been remodeled into a modern hideaway in pastel shades. The hotel's original bones have been retained, but interiors now feature graceful arcades, ample curves, sleek art deco-inspired furnishings, and soothing, muted tones of blush, blue, earthy olive. and rust.
Sydney-based design firm MKD Architects was behind the facelift, while the property is owned by family-owned developer Novarum Group (which also owns and operates the Grand Hotel Kiama and Nova Kiama on the New Wales south coast of the South).
Each of the 46 rooms is housed in one of the hotel's three wings, which are named after the rock columns – Meehni, Wimlah, and Gunnedoo – in the Blue Mountains' most famous landmark, the Three Sisters. The wings converge into a central hall, where you will also find the Blaq restaurant and bar. The two-acre property has a tennis court, steam room, three fireplaces, and a beautiful, century-old cherry tree that you can't miss.
It's a classic motel setup, which means every room – whether it's a king suite (sleeps up to three), a two-bedroom suite, or a family room. – has its own exterior entrance, so there is no need to go through the hall.
The in-room minibar is stocked with a selection of locally produced snacks and drinks, including premixed Negronis from Karu Distillery, tinnies from Katoomba Mountain Culture Brewery, and cookies from Whisk & Pin. The bathroom features Eucalyptus Lavender Hand Soap handcrafted by the Snowy Mountains Eucalyptus Oil Company.
You don't have to be a guest to eat out, Blaq. Named for its location in Blackheath, it is run by Mate Herceg, who also worked at the mountain's most famous hotel, the Hydro Majestic. Its menu features hyperlocal ingredients mainly sourced from suppliers located within an 80 kilometer radius of Kyah and complemented by the hotel's vegetable garden.
Expect things like heirloom beets marinated with goat curd and radicchio; kingfisher ceviche tostada; rigatoni with five o'clock pork shoulder stew; and a selection of charred and grilled meats, including Berkshire Pork Chops with Fennel and Sage; Rangers Valley bistecca or whole spatchcock.
The bar is riding the trend for indigenous ingredients, with indigenous-based cocktails such as Acacia Seeds, which appear in its version of an Espresso Martini, and Lemon Myrtle, in the Flamin 'Galah. Blaq opens daily for breakfast; dinner and drinks are available Wednesday through Sunday; and lunch is served on weekends only.
The Kyah Boutique Hotel is located at 13-17 Brightlands Avenue, Blackheath. Rooms start from $ 220 per night.
thekyah.com.au
@kyahboutiquehotel