Artist Delivers Chinese Cultural Atmosphere and Philosophy on Canvas
---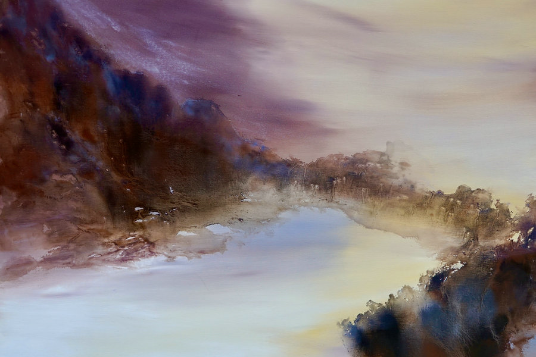 Born in Shanghai, Christian Lu grew up in a culturally rich environment and learned painting from several well-established artists, such as Liu Haisu, Yan Wenliang and Lin Fengmian, until he moved to Paris to pursue his artistic dream in 1981.
There Lu studied under the Chinese-French master Zao Wou-ki, introduced by Lin who was Zao"s teacher and director at the China Academy of Arts in Hangzhou, Zhejiang Province. Lu also worked as an assistant of Zao for seven years, learning from the master how to integrate Chinese cultural traditions into the language of oil painting.
dreams of clouds, an exhibition through November 9 at the National Art Museum of China in Beijing, shows dozens of oil paintings by Lu made since 2014 in which his subtle brushwork and vibrant color arrangements present a sense of dream and dynamism. They exhibit an influence from Song dynasty (960-1279) painters who depicted landscapes in a half-realistic, half-abstract approach, and who sought self-cultivation and a connection with the universe in paintings.