Artist erases disability to inspire with oil on canvas
---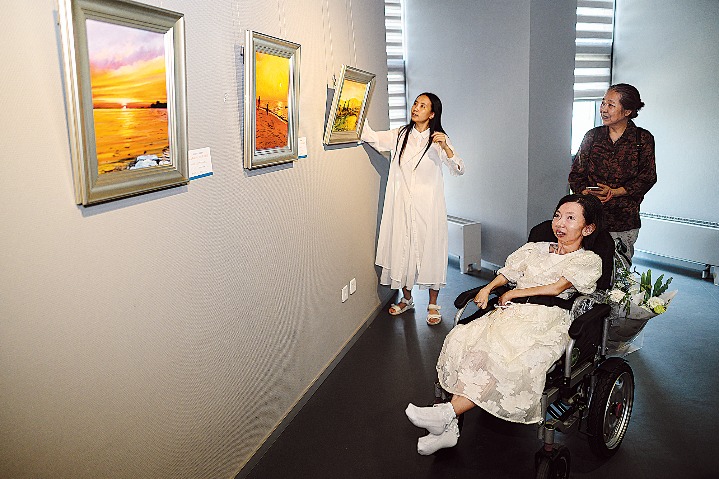 July 26 was a special day for Zhang Junli and her family this year.
The day saw the talented 44-year-old, who has lived with the autoimmune disease rheumatoid arthritis for 34 years, open the first exhibition of her oil paintings in Taiyuan, capital of Shanxi province, with support for local disabled people. "federation.
Although 85 percent of his joints are unable to move and his condition is deteriorating year by year, Zhang has created the 80 works displayed in the exhibition since 2015.
For her, the words "paralyzed", "handicapped" or "sick" have no real value. "An artist's mind is never bound by their physical condition," she said.
The days before Zhang's illness have already become vague in her memory.
"At first I always thought that the disease could be treated and that I could recover quickly and then go back to school," she said. But she never went back to school.
Four years of treatment only worsened her condition until finally the disease kept her in bed at the age of 10. After realizing that her life would not follow a normal course, she became moody and depressed. Her parents brought her endless books and comics to keep her entertained. Little by little, she accepted the truth and began to read, write and paint, just to "kill time".
"I had a clear plan for my future much earlier than most kids, and I focused on what I could do and tried my best to do it well," said Zhang, whose dream was to become a writer and painter. "I love painting and literature and I forget the pain when I get lost in them.
"Every time I finish a piece, no matter how good it is, that satisfaction will always accompany it," she said. "I'm so happy that the exhibition means more people will see my paintings. I hope the paintings can give them hope and inspire them."
Zhang's mother, a 70-year-old retired teacher who cares for her with her father, said, "My child has suffered much more hardship than most people his age. She has a strong spirit and she is my pride and joy. ."
Without her parents' support and care, Zhang would not have survived, she said.
Such was their inspiration, that Zhang was able to get an image she had drawn in a science fiction comic book published in 1994. A year later, she had a story published in the same publication. She earned 800 yuan ($118) from the story, equal to the monthly salary of her father, who was also a teacher. She said the payday gave her great confidence that she could earn a living.
Yu Yimei, a woman from Sichuan Province, became her correspondent after reading her story and came from Sichuan to attend the opening ceremony of Zhang's exhibition in Taiyuan.
It was Yu who encouraged Zhang to become a professional painter and writer and introduced him to online courses and teachers.
Some lines that are simple for most people to draw are difficult for Zhang. It is not convenient for her to hold the drawing board with one hand and draw lines with the other, so she asked her father to make a new drawing board and a triangular stand, so that she can use her right hand, which is limited in its movement due to the stiffness of the elbow, to draw slowly again.
Through her perseverance, Zhang has written and published five novels since 2005, and she opened her own shop on WeChat to sell her oil paintings in 2017.
"I still remember my first brushstroke when learning oil painting on January 1, 2015," Zhang said. "When the first stroke began, a feeling of joy arose in my heart, for the touch of a stroke and the feeling that I could control the painting with my own hands let me know that this painting and this method of painting are very appropriate for At that time, there was a feeling of ecstasy at the idea of ​​finding something that suited me.
Opening his first painting exhibition is like the completion of a lifelong goal for Zhang. And her mother said the days leading up to it felt like the days before the wedding.
Yu said that over these years, Zhang's experience and spirit have always motivated her to make the most of what life has to offer.
"Zhang uses his actions to tell people how much difference perseverance can make," Yu said.
Yang Cong, deputy secretary-general of the China Commission on Advertising Promotion for Chinese Disabled People's Enterprises, who visited the expo, said, "Self-esteem, self-improvement and self-reliance of Zhang are like a light in the dark. , giving people hope and strength."