British Airways launches platform for sustainability
---
A climate-conscious future is closer than we think according to the latest news as British Airways launches an enhanced program in partnership with CHOOOSE that allows passengers to view and take charge of their travel shows. This is an opportunity that extends to individuals and businesses traveling with the airline.
A commitment to Net Zero, revised: British Airways launches platform to empower customers
In line with the airline's objectives to achieve net zero emissions by 2050, British Airways has taken various steps in order to achieve this goal. These measures include housing more fuel-efficient aircraft within the fleet, funding certified carbon offset operations to tackle emissions produced when flying domestically in the UK and investing in the development of sustainable aviation fuels (SAF).
The improved program, named Co2collaborate, will allow customers to assess an accurate reading of their emissions and indicate the percentage of SAF they would like to purchase versus carbon offsets. SAF comes from the Phillips 66 factory in the Humberside region, where the raw material is made from used cooking oil as part of the factory's sustainable operations. Compared to traditional jet fuel, SAF offers lifecycle emissions reductions of more than 80%.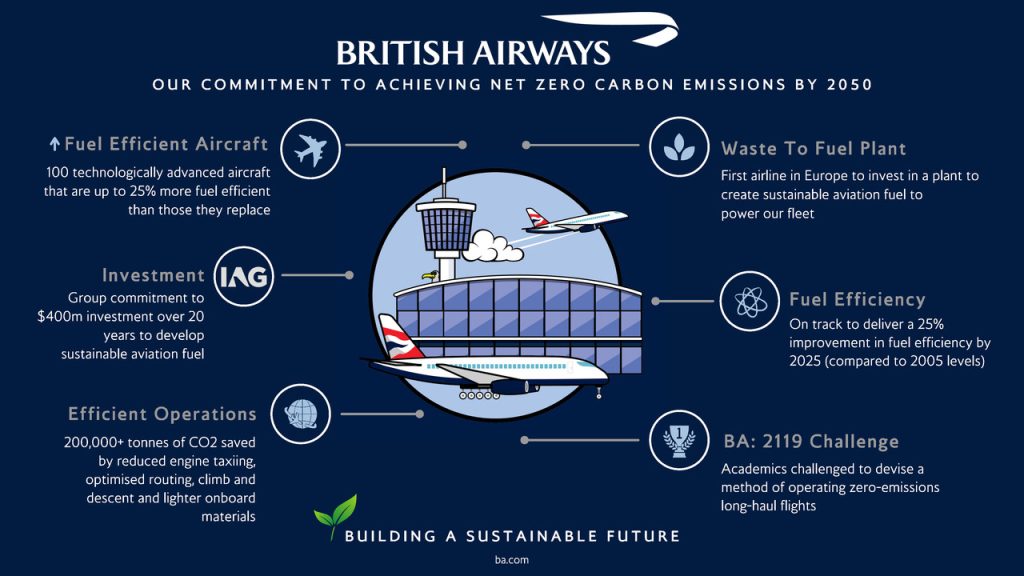 Carrie Harris, Director of Sustainability at British Airways, had this to say about the partnership with CHOOOSE in a recent statement:
"We know that many of our customers want to travel with sustainability in mind and as we work to implement our own short, medium and long term initiatives to achieve net zero emissions by 2050, we know that many of our customers want to take action today too. This new CO2llaborate platform empowers our customers to make sustainable choices when traveling with us. We look forward to working with CHOOOSE to evolve the platform as we continue to drive the decarbonization of our industry."
Airline partnership with CHOOOSE shows great strides for the aviation sector
The program can be viewed before, during or after the flight by individual travelers as well as companies that fly frequently with British Airways. The two options offered once the emissions are calculated are: you can choose to buy SAF with the total or contribute to certified carbon offset projects.
The partnership between British Airways and CHOOOSE will give travelers insight into their emissions and overall climate impact during flight, while showing them that action is possible. Big or small, all action must be encouraged in the hope of a more sustainable future.
Andreas Slettvoll, CEO and Founder of CHOOOSE, had this to say about the collaborative project:
"The partnership with British Airways is a real step in bringing climate solutions to leisure and business travellers. British Airways has always been a north star for us when it comes to innovation in the airline industry and we are proud to support them in their hard work on their most important journey yet, their journey to net zero.
You can find more information about the program here.
What do you think of British Airways' partnership with CHOOOSE? Let us know in the comments below!