Heerema sets the stage for rig withdrawal from UK waters after 45 years
---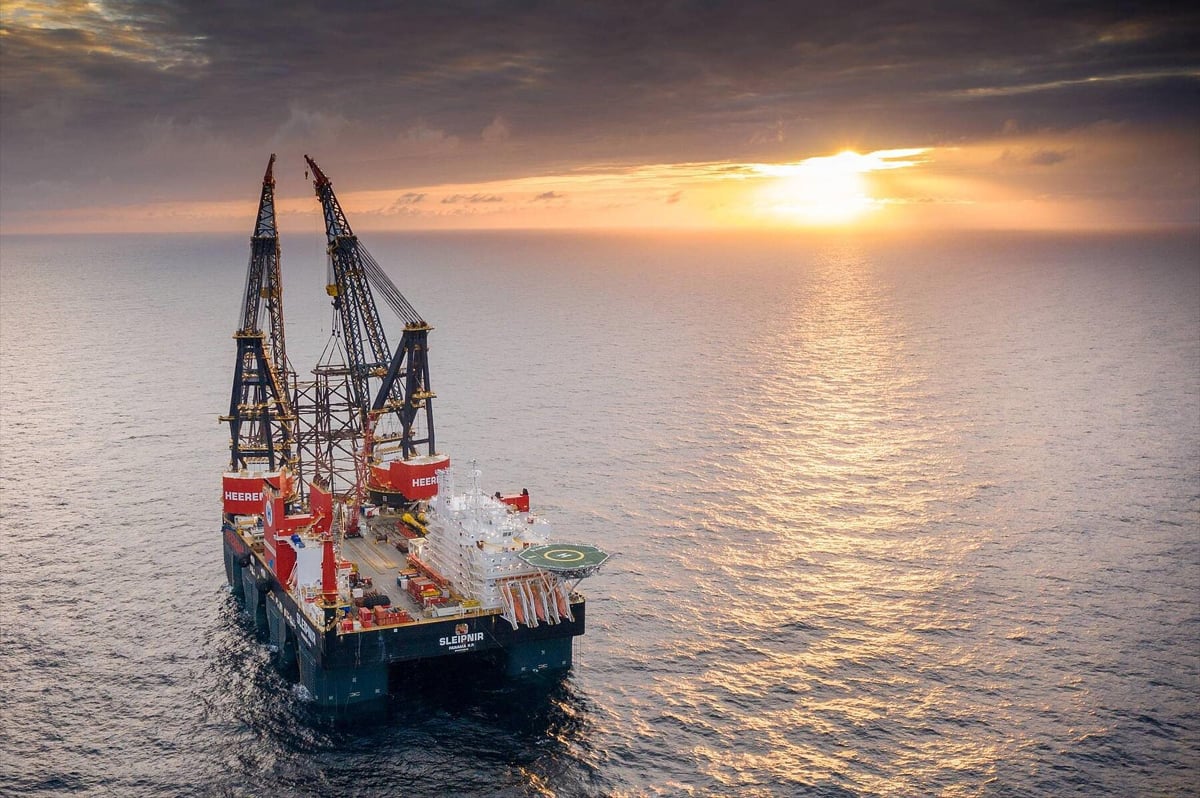 Dutch offshore contractor Heerema Marine Contractors has set the wheels in motion for the world's largest crane vessel, Sleipnir, to remove an offshore platform from the waters off the UK after 45 years.
As Heerema Marine Contractors informed in a social media post on Wednesday, the time has come for the company to decommission the Dunlin Alpha Platform on behalf of Fairfield Energy.
The platform was installed in 1977 and after 45 years it will now be over 95% recycled.
According to Heerema, its other giant heavy lift ship, Thief, is working on connection and withdrawal activities, alongside Heerema's consortium partner, AF Offshore Decom. The company explained that this work consists of preparing the Sleipnir ship to remove the module support frame with a single lift later this season without revealing a specific timeline for the operation.
It should be recalled that in March 2022, Heerema switched its two largest crane vessels, Sleipnir and Thialf, from using their engines to using shore power while moored in Rotterdam. . Shore power allows ships to turn off their engines and plug into the electrical grid for their power supply.
The contract for the removal and disposal of the top of Dunlin Alpha was announced in September 2018 and awarded to Heerema and AF Gruppen in December of the same year. The contract included the engineering, preparation, removal and disposal (EPRD) of the upper part of Dunlin Alpha with a total tonnage of approx. 20,000 tons. At the time of award, the platform was scheduled to be retired and disposed of between 2021 and 2024.
Fairfield's dismantling plan for the topsides of the Dunlin Alpha platform located in the North Sea was approved by the British authorities in May 2019.
The Dunlin Alpha facility served as the production facility for the Greater Dunlin region and is located in UK Continental Shelf Block 211/23a, approximately 137km northeast of Shetland and 11km from the line British/Norwegian median.
It was installed in 1977 and two subsea hookups, Osprey and Merlin, were developed in 1991 and 1997 respectively. During its lifetime more 522 million barrels of oil were produced from the Greater Dunlin area. Production ceased in June 2015.
In a similar vein, the Heerema-owned vessel Sleipnir was also recently used for lifting and installation operations on the Tyra II project operated by TotalEnergies in the Danish North Sea.
The final stages of the Tyra redevelopment project included the successful offshore lifting and installation of Tyra West's three wellhead and riser platforms (TW-WHRP), utility and living quarters (unit accommodation) and two bridges.
Sleipnir also recently got a new gig in Australia. Under a new contract with Inpex, the vessel will transport the 4,800 metric ton Ichthys LNG Booster Compression (BCM) module from Indonesia to Australia and install it on the Ichthys central processing facility. Explorer (CPF), located off the northwest coast of Western Australia, as part of the Ichthys LNG Phase 2 development.