in oil painting | Media of Providence
---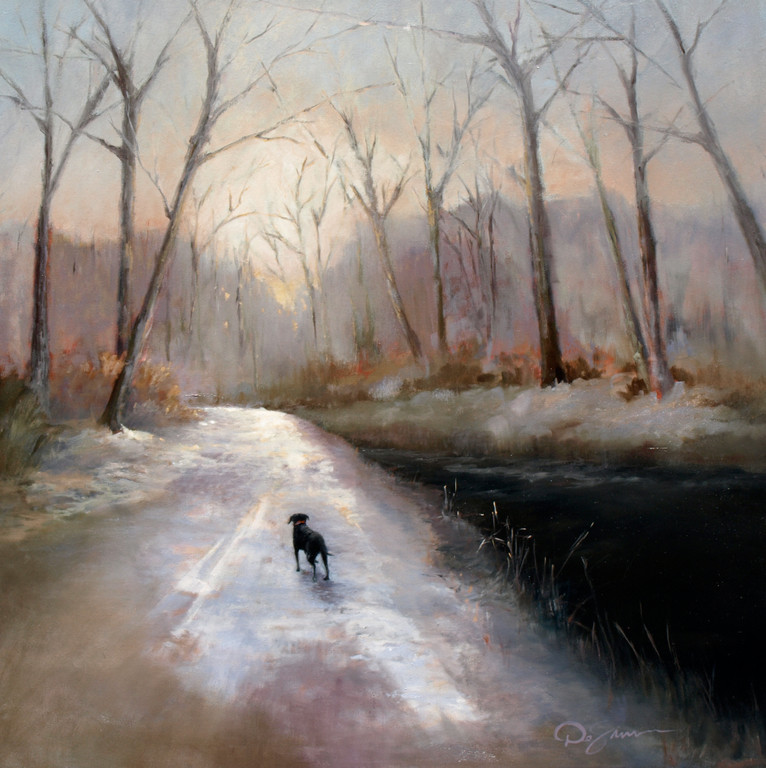 Erin swanson
As I walked up Thomas Street from North Main, I noticed that the front door of the Deacon Taylor House at the Providence Art Club was ajar, a glowing "Open" flag waving softly to the side to call out curious passers-by. Once inside the yellow colony, I spotted Sandra De Sano Pezzullo standing at an easel, spreading paint with a brush on an oversized canvas.
After having greeted me warmly and offered me a drink, Sandra turns to the landscape. "This is the part of the painting that is the most difficult," she says. "It's almost over, but not quite. He still needs something. Skillfully applying several coats of paint, she pulls back to examine the room. "I like the way things are going," she says. "Sometimes you watch more than you paint. "
The studio is warm and welcoming, with various paintings on display throughout the room. They're all for sale, except for those on easels – work in progress – and the astonishing rendition of Walker Farm for which she won first place in a major national competition. Royal purples contrast with bright lemon greens, a bucolic feast for the eyes. It won in the oil category at the National Show of the Cape Cod Art Association.
In a huge framed room hanging on a wall, I notice a small black dog painted on a wooded path. "It's my dog, Madison!" Sandra said enthusiastically. "This path is at DeSano Woods. It was owned by my family before it was donated to the Town of Barrington. The artist's love for all of nature is expressed in his various landscapes. Whenever she goes hiking or skiing, she always stops to take pictures so that she can then paint the landscape.
"I love oil," she said, spreading paint again with her brush. "It's really all I've ever used. Well, I dabbled in watercolor, but once was enough! After completing a certificate program in Decorative Art at RISD, Sandra began painting furniture and murals. "I liked him, but he didn't have the freedom that it has. Plus, I was sick of carrying ladders and painting in people's homes, "she laughs.
She returned to the canvas and never looked back, moving into her current space in 2006. "Most of my real learning was done here at the Art Club," she says. "The people teaching here are great and I pick up little pieces here and there. I did this mostly when my kids were growing up – I did whatever I could whenever I could.
Today, Sandra comes to her studio every day to paint. Its hours are by appointment or by chance. "I love this studio and I love the East Side," she says with passion. "I love when people see the door open and walk down the street. There's such a big community of artists here too – I'm going to walk across the room and drag Joan [McConaghy] to ask, "What do you think of this?" ""
To take a peek at Sandra's beautiful scenery, just have a nice day, give her a call or catch her at a gallery night – she's one of the participating artists. Currently, she and Joan are preparing an exhibition in the Art Club's Maxwell Mays Gallery it will start with an opening reception from 2 p.m. to 4 p.m. on June 30. Come see two of the best on the East Side.