Northwest Trade Notes: Rosetta Brands; Growth platform; Pilkington; Count the King; Maersk; RLWC21
---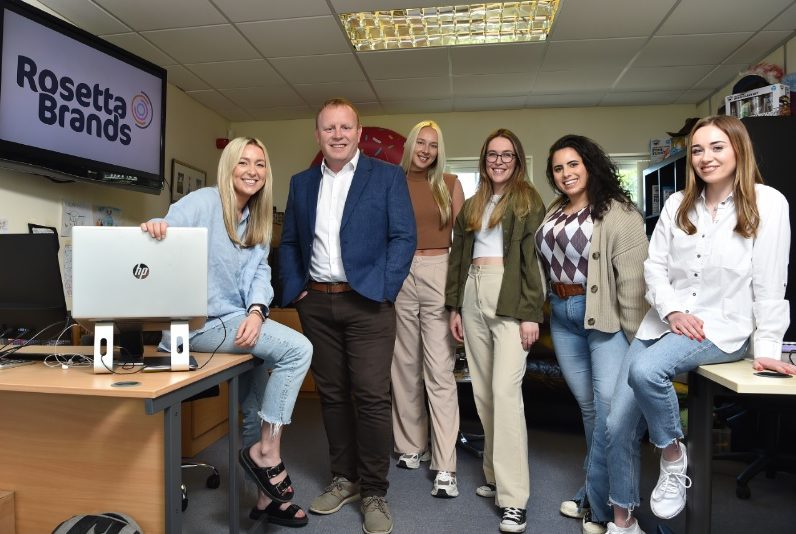 A Garstang-based Amazon e-commerce specialist has opened an Australian office and is expanding into new markets, including the United States and Singapore, after receiving business growth support funded by Boost, the business growth center of the Lancashire.
Formed in early 2010, Rosetta Brands began as an online specialist in selling fun gifts from the USA to UK consumers. off, and moved to offices in Nateby, Garstang to manage his growing business.
During this time, Nick developed a strong working partnership with Amazon, and Rosetta Brands became an Amazon Designated Supplier. He recognized there was an opportunity because of his position as a seller to act as a "gateway" to other businesses to sell their products on Amazon. Nick contacted Boost's business relationship management team in 2017 for further advice on his new venture. He was referred to Boost's bespoke program and was introduced to Hayley Caine, a sales and marketing strategist. She reassured Nick that his idea was unique and viable. They then got to work developing a sales strategy and marketing plan.
Nick said: "I go back to the very first conversation with Hayley when I disclosed our initial concept to grow our business as a 'gateway' between food and drink brands looking to sell to Amazon, like the real turning point for the company. Hayley reassured me that the idea was "brilliant" and that we had to "go for it". I then flew straight to London to discuss it with my business partner Steve Keable and the team and get started.
Boost is Lancashire's business growth center and is led by Lancashire County Council and the Lancashire LEP (Local Enterprise Partnership). It is supported by funding from Lancashire County Council, the European Regional Development Fund (ERDF) and the Department for Business, Energy and Industrial Strategy.
Rosetta Brands services include optimizing online web pages as well as product images and content. Participating businesses sell their products to Rosetta and are then featured on Amazon platforms identified by the Amazon Prime badge with their products sold and shipped by Amazon, which is key to sales volume. Rosetta Brands manages wholesale orders, advertising and the relationship with Amazon for its customers. Its turnover has grown from £100,000 to almost £5 million and its workforce has more than doubled to 20 people.
::
A £1million fund is on offer for SMEs after Growth Platform – Liverpool City Region Growth Company – relaunched the ERDF New Markets 2 program to help businesses access high-value business advice and support.
Eligible companies may receive a 35% contribution to the cost of advisory or agency fees which may include financial advice, HR support, legal advice, export, as well as strategic development, including marketing and the sales.
Janice Mears, Head of Business Growth at Growth Platform, said: "It's fantastic that we can help more businesses with a new funding round from New Markets 2. The program has already been a great success, helping 281 SMEs across the city region grow, with grants totaling over £980,000 for a total of just under £3m of purchased business services.
"There really is a plethora of services you can get a grant for, such as HR assistance, coaching, legal advice as well as ISO accreditation costs, just to name a few. I therefore encourage any business to contact our trading brokers and see how they can help.
Janice added, "Helping businesses grow and thrive is at the heart of what we do at Growth Platform. SMEs make up a large part of our business community and their growth is essential to the future prosperity of our metropolitan region.
::
Nearly four kilometers of glazed platform screens have been installed at new Elizabeth Line stations in central London, ensuring passenger safety with the final segment of the historic rail project now open.
St Helens-based glass manufacturer Pilkington UK supplied 5,000 glass panels to Knorr-Bremse Rail Systems UK, who manufactured and installed floor-to-ceiling platform screen and door systems, creating a transparent safety barrier between the edge of the platform and the track.
The glass barriers are on the 240 meter long eastbound and westbound platforms at Paddington, Bond Street, Woolwich, Canary Wharf, Tottenham Court Road, Farringdon, Liverpool Street and Whitechapel stations.
Kristian Chalmers, Head of Sales at Pilkington UK, said: "We are proud to be one of the many suppliers from all countries and regions in the UK who have helped Crossrail become a reality. Naturally, a project like this calls for the specification of high performance materials capable of withstanding very high traffic while meeting critical safety requirements.
"Knorr-Bremse chose to work with us on the Elizabeth line project because of the strength and quality of the Pilkington Pyroclear® product technology, and our ability to meet both a demanding technical dossier and to a complex program. Glass is an ideal choice for projects with safety and security standards as high as this. This is reflected in the fact that we now have products listed in the London Underground Approved Product Directory. »
::
An R&D tax specialist with offices in Media City, Salford, has expanded to Scotland and bolstered its team with three new hires as it experiences significant growth.
Counting King has supported over 150 companies with R&D tax applications over the past year and is looking to reach even more companies with innovation funding support and advice by establishing a permanent presence in Scotland. The team has grown rapidly to 15 people over the past year and there are plans to recruit for four additional positions in the coming months.
It helps organizations access grants, tax relief and investment to help grow and scale innovative businesses in the UK looking to disrupt their industry with commercially successful technology products or services. Counting King already works with companies in a variety of industries including brewing, oil, gas, software development, engineering, construction and manufacturing.
The new team in Scotland is led by Director James van Beusekom, who has over 25 years' experience in banking and financial services and has previously worked with GE Capital, RBS Group and Bibby. Gwydron Siswick has been appointed as a corporate finance consultant with a wealth of financial knowledge and previous experience in the sign, graphic design and construction industries.
Susannah Downs also joins Counting King from international consultancy Leyton. Previously, she worked in sports media with Sky Business and the Scottish hospitality industry, specializing in the brewing sector and working with Innis & Gunn.
::
Global integrated logistics company AP Moller-Maersk celebrated its second year supporting Pride in Liverpool as a festival supporter, making the city the first public stop on its monthly rainbow container tour. pride 2022.
The 3.7 tonne container, which is one of many painted in the colors of the Pride flag, has been touring the world since 2020 as a symbol of equality, inclusion and diversity and to raise awareness of the issues facing faced by the LGBT+ community.
The Rainbow Container was welcomed by local Maersk staff, representatives of the LCR Pride Foundation, Liverpool City Council and members of the public at Liverpool's Pier Head earlier this week. The container is now continuing its tour through various locations in the UK.
Gary Jeffreys, Managing Director of Maersk UKI, said: "Maersk's Rainbow Containers are a symbol of equality, inclusion and diversity – boldly sharing with the world our stance on creating a culture where all employees, partners and customers feel welcome and can be themselves. without judgement. From their inception in 2020 until today, we hope these containers somewhere along their journey around the world have reminded people that they are never alone and are accepted regardless of race, their gender, age, ethnic origin, sexual orientation, religion or disability. ."
Andi Herring, CEO and co-founder of the LCR Pride Foundation, said: "Making sure the message of Pride is heard throughout the year and throughout the Liverpool area and beyond is embedded in our founding mission. As a global company visibly supporting its staff and LGBT+ communities, Maersk's values ​​synergize with our purpose as an organization and we are delighted to have them on board for this year's Pride in Liverpool.
::
Rugby League World Cup 2021 (RLWC2021) has announced Vodafone as its official technology partner.
The tournament, which has been postponed due to the pandemic, is set to take place in England from October 15 to November 19, and will be the first time the RLWC has encompassed men's, women's and wheelchair competitions in a singular event, on 61 matches. and 21 sites. The competition will culminate in the finals at Manchester United's Old Trafford stadium.
Jon Dutton, Managing Director of RLWC2021, said: "We are delighted to welcome Vodafone Business as an Official Technology Partner as we seek to create innovative and exciting ways for fans to engage in league sport. of rugby. With tickets selling out fast and excitement building, the countdown is on for our tournament to have a real impact on local communities across this country and we are delighted to have the support of Vodafone to help us deliver. the biggest, best and most inclusive Rugby League World Cup in history.
Nick Gliddon, Director of Vodafone Business UK, said: "Our new partnership with the Rugby League World Cup is hugely exciting and an important part of our continued support for sport in the UK. The Rugby World Cup is a champion of diversity and inclusion, and we share those values ​​and beliefs at Vodafone – we're here to help bring the 'power of together' to life with this new partnership. bright. »
This new partnership with RLWC2021 further expands Vodafone's commitment to supporting sport in the UK, post-pandemic. The partnership builds on Vodafone's new multi-year partnership with Wimbledon and the AELTC as Official Connectivity Partner, its role as Premier Partner of the British and Irish Lions 2021 Tour of South Africa, Premier Partner of Wasps Rugby and Netball, and rugby player associations. the Rugby Players Association (RPA), Rugby Players Scotland (RPS) and the Wales Rugby Players Association (WRPA).