Russian Finance Ministry plans collaboration with other countries on stablecoin settlement platform
---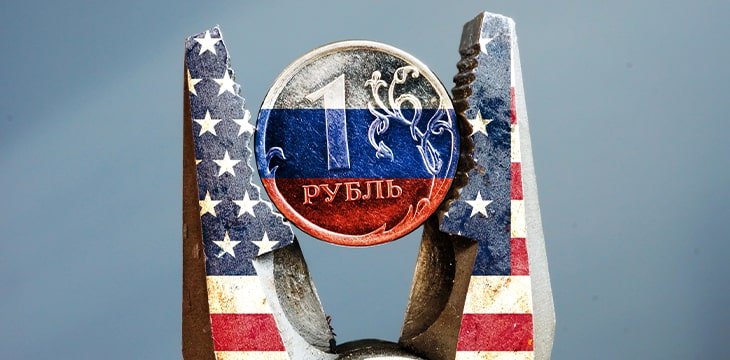 Russia has begun high-level discussions with its allies on a potential stablecoin platform for use in cross-border settlements. The state-run TASS news agency said the finance ministry was spearheading efforts to find alternative international payment methods after coming under fire from a series of sanctions.
"With a number of countries, we are currently working on creating bilateral platforms and not using dollars and euros," Deputy Finance Minister Alexey Moiseev said. "We are offering mutually acceptable token instruments to be used on these platforms, which are essentially clearing platforms that we are currently developing with countries."
Moiseev made the revelation during the 7th Eastern Economic Forum held in Vladivostok. The main theme of the symposium was "Towards a Multipolar World" and several speakers discussed the use of digital assets by the Russian state as a means of cross-border payment.
In his speech, Moiseev noted that the proposed stablecoins would be pegged to a recognizable instrument like gold that is transparent to all participating countries.
Earlier this week, the country's central bank and finance ministry agreed that given the current geopolitical climate, it's almost impossible for Russia to ignore the importance of virtual currencies for cross-border payments. Moiseev reportedly said that in the future, a law will be passed to legalize their use, but before that, a proper regulatory framework will be put in place to prevent abuse by money launderers and drug traffickers.
The events behind Russia's interest in digital assets
Russia's stance on digital currencies has been hostile in recent years, with a series of bans on their use for local payments. Vladimir Putin, President of Russia, has dashed enthusiasts' 2021 hopes by declaring that BTC is unsuitable to be used as an international settlement for commodities like oil due to its inherent volatility.
In February, Russia invaded Ukraine after months of passive aggression, leading to the imposition of a series of sanctions by Western powers. Major brands have closed their operations in Russia, and things escalated after the country was kicked off the SWIFT network. Russia's economy shrank 10% amid reports that the country's oligarchs and institutions were turning to digital assets to circumvent sanctions.
Efforts have been made to explore a digital ruble as options are scarce for administrators. Moiseev added that Russia will encourage local digital currency operators after identifying a trend of Russian citizens turning to foreign exchanges to trade.
Watch: The BSV Global Blockchain Convention panel, The future of digital asset trading and investing
width="560″ height="314″ frameborder="0″ allowfullscreen="allowfullscreen">
New to Bitcoin? Discover CoinGeek bitcoin for beginners section, the ultimate resource guide to learn about bitcoin – as originally envisioned by Satoshi Nakamoto – and blockchain.